Log Book Servicing
Despite what you might have heard, it's a common misconception that log book servicing cannot be done outside of the car's dealership. Bicey's Mechanical Workshop is certified to carry out these services for you on all new petrol, diesel and LPG vehicles.
Minor/Major Services
We offer all general mechanical repairs and services on all makes and models. No job's too big or small for the team at Bicey's Mechanical Workshop!
---
Brakes
Your brakes are arguably your car's most essential safety function. Alike other areas in your car, they are subject to wear and tear from everyday actions like stop and start driving. Poorly maintained brakes are not only a safety hazard but could be wasting your hard-earned money!
Our team of brake specialists can repair, service and replace your vehicle's brakes, to keep you and your loved ones safe on the roads!
All General Mechanical Repairs
With decades of experience under our belts, it's safe to say we know a thing or two about mechanical repairs. Get in contact to learn how we could save big bucks on your general mechanical repairs!
4-wheel drive specialists
We take care of all makes and models, but we would be lying if we didn't mention our expertise as 4-wheel drive specialists. We go that extra mile to ensure your 4-wheel drive vehicle gets nothing but the best in care, advice, repairs and services.
---
---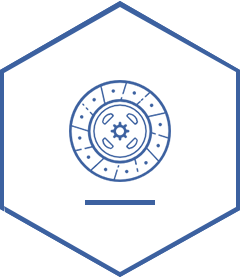 Clutch Repairs
Are you noticing tell-tale signs that your clutch is due for a repair, like gear selection problems, a slipping clutch, crunching, leaking fluid or little or no clutch resistance? Your vehicle may be due for a clutch service or repair! The team at Bicey's Mechanical Workshop can assist with all clutch repairs and services, including clutch cable replacement, flywheel machining/replacement, clutch cylinder replacement and more.